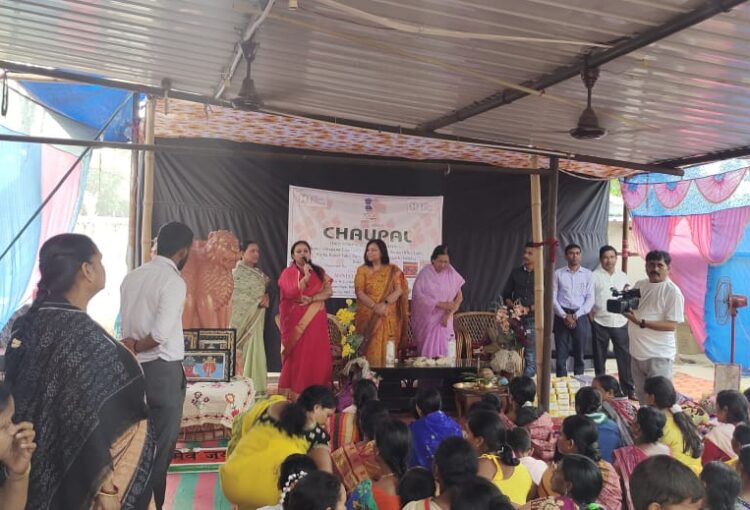 Choupal (Strengthening our tradition)
STHAPANA..Organised CHAUPAL Interaction with Handicraft Artisans in Deogarh District on 26th May at its office premises at 4pm. Smt Nibedita Nayak, briefed about the need and scope of this program for the upliftment of handicraft Artisans. She urged that all line Departments should work on convergence for the welfare of the Artisan Community.
Government Of India, Ministry Of Textiles, Office Of Development Commissioner (Handicrafts), Handicrafts Service Centre,  Shanti Nagar, Budha Raja, Sambalpur organised 4th Chaupal (Interaction With Handicraft Artisans) at Sthapana Charitable Trust Premises, Purungarh, Deogarh, Odisha on 26.05.2022.
The programme has been inaugurated by Hon'ble Chairperson of Deogarh Muncipality – Smt.Santi Manjari Dei. Approx 100 Artisans of different craft in Embroidery, Applique, Art Metal Ware (Dhokra), Cane & Bamboo, Painting, Sculpture making participated in the programme. Awareness about schemes of D.C (Handicrafts), E-marketing/GeM portal, Mudra loan have been created among Artisans by Smt. Kumari Shailja, Assistant Director (Handicrafts),HSC Sambalpur.  Sri Banamali Tappo, Assistant Director, (Handicrafts) Deogarh, Govt of Odisha briefed about the state Government schemes like MCM training, craft village training, work shed scheme etc. for the Artisans. Sri Birendra Nath Officer On special duty (Deogarh), A.D(H )Office, Smt Nibedita Nayak, President, Sthapana Charitable Trust , Smt Minkashi Mishra, President – Rumkajhuma, Deogarh, Smt.Basanti Behera, Zilla Parisad, Zone-II, Deogarh also participated in the programme . On spot enrolment of pehchan cards has been done.  A different craft product has been also displayed by the artisans in the programme which has been highly appreciated by the guests.  Artisans actively participated & got motivated also during the programme. In this way 4th chaupal has been successfully organized by staffs of HSC, Sambalpur.