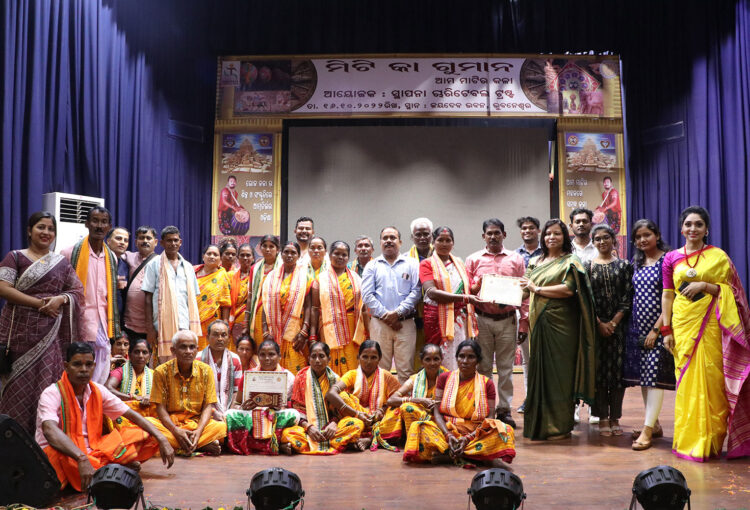 Mitti Ka Guman
Sthapana Charitable Trust to revive the lost kirintan, Bhagwat Tungi  and folk arts of Odisha. From the cottage industry of the village, there is a new attempt to explore the art and culture of Odisha. A great effort especially for mothers and motherhood. There are so many arts in villages and retreats of Odisha which are slowly being lost. What's more, there are so many female artists whose art is taking off like wildfire. In order to promote these things, the 'Miti Ka Guman' initiative has been taken by the Sthapana Charitable Trust.
On this occasion, 'Miti Ka Guman' was held at Jaidev Bhavan by the Mantha Charitable Trust. In this program, the Minister of Housing and Urban Development, Mrs. Usha Devi, was the chief guest, Dr. Minati Behera (Chairperson Women's Commission, SCW), Ms. Mandakini Kar (Chairperson Child Right Commission), Dr. Dillip Rautharai (Special Secretary, Government of Odisha), Padma Bibhushan Sudarshan Sahu and Padma Shri Devi Prasanna Patnaik attended as special guests.
The program was conducted by Nivedita Nayak, Founder of Sthapana Charitable Trust and Advisor, Biju Health Kalyan Yojana. On this occasion, Mr. Sabyasachi Mahapatra, the famous Film Producer, Mr. Sabyasachi Mahapatra was honored with the Mitti Ka Guman Award 2022, Mr. Krishna Chandra Nayak (Editor,Shree Sahitya) Awarded as Aam Matira Gourav), and the famous Gandhian social worker Smt. Krishna Mohanty awarded in Swapna  Binodini Award 2022.
During this event, 25 prominent people were honored. The day-long program was attended by people from various way of life. Smt. Nivedita Nayak said that we will work to protection, preservation and promotion of art, culture and tradition. We have been emphasizing on women's self-reliance through tradition and culture and continue our efforts to reach the artists of the village community on the global platform
Fortunately, on the birthday of Chief Minister Naveen Patnaik on 16th October, Sthapana Charitable Trust has organized its own program. On the birthday of the Chief Minister, who is always concerned about women empowerment, Sthapana family has made such a unique effort for the development of women in the village through art and culture, and in the coming days, the head of the trust has expressed the opinion that Sthapana Charitable Trust will take up various programs in the field of women empowerment.
Various folk art and cultural programs were performed in this program. The Secretary of Sthapana Charitable Trust, Mr. Saroj Kumar Bhuyan, Ms. Shanta Sabhyarasingh, Ms. Rita Dholerasingh, Sachikanta Pradhan were presented in this program. At the end of the program, Mr. Saroj Kumar Bhuiyan gave vote of thanks.